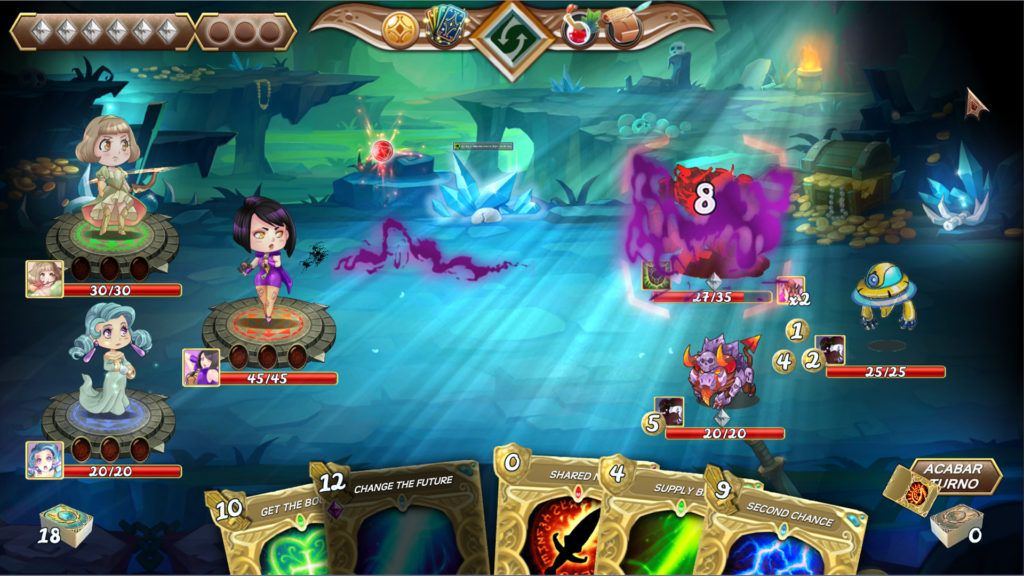 UPDATE 06/13/2020: We have added the game Nongünz: Doppelganger Edition by Brainwash Gang and updated the date and time of the talks and events with the developers.
UPDATE 06/05/2020:
The Steam Game Festival has joined the list of events that it has decided to be postponed to make way for more important issues, such as the anti-racism protests that are taking place in the world. The date turns 16-22. June. Of course, the lectures and planned events will also change, so we have crossed out the information in the article until we have new news.
On the other hand, we're adding another Spanish game to join the event list: Mighty Polygon Relicta.
ORIGINAL TEXT
The Steam Game Festival: Summer Edition will be an event running between June 9th and 14th that will give studios the chance to show off their future releases and give players the chance to test them out.
During the five days that the festival lasts, Steam users will have access to dozens of demos of video games in development that are slated to be released before the summer of 2021. In addition, there will be other events that include live games or chat sessions with the developers. This is a great opportunity for studios to get feedback and for gamers to add to their wish lists.
The Spanish video game industry will be well represented at this event. Thanks to the information from DEV and the great initiative of David Ferriz on Twitter, we were able to compile a list of the 14 games that will be present:
The list will be updated if we have news about a delayed game or if we know the schedule of talks and events organized by the developers
Crystal Soul Chambers – DeVToken
Crystal Soul Chambers is a villainous card game in which you have to create a group of 3 characters, each with their own unique set of cards. Each character has their own set of skills that are related to their personality.
Planned for summer 2021, the game will offer us 3 game modes, 24 characters with exclusive skills, more than 300 maps, more than 200 items and a JRPG anime style graphics and sound area.
More information about the game and the developer: – Steam page – Twitter profile – DeVToken YouTube channel
Elementallis – Iván Ruiz Lozano
Ellementalis is an adventure inspired by the Game Boy classics Zelda. At the heart of the game will be the interaction with the different elements (fire, water, wind, earth …) either to solve puzzles, advance in the story or to fight. It doesn't have a specific release date yet, but when we do are impatient not to wait until June 9th, we can now find the demo on itch.io. The developers have scheduled a talk about the game during the Steam Game Festival via Discord, Twitter and Steam. It is scheduled for June 17th at 8:00 p.m. Add a reminder so you don't forget it. More information about the game and the developer: – Steam page – Discord channel – Twitter profile
John Mambo – Iction Games
John Mambo is an arcade game with a retro pixel art aesthetic and an isometric view that gives us tons of shooting and humor. We control John Mambo, a warrior crazy enough to step into a jungle unaided, with a mission to face an entire army.
John Mambo is looking for the typical arcade frenzy of the 16-bit era, inspired by classic games like Ikari Warriors or Commando. A video game that also uses the cooperative mode for two players. Without a specific date, it is planned for this year. The demo is now available on their website.
You have scheduled a chat to meet the team during the Steam Game Festival, which takes place on June 20th at 7:00 p.m.
More information about the game and the study: – Steam page – Twitter profile – website
HOLMGANG: Memories of the Forgotten – ZeroUno Games
HOLMGANG: Memories of the Forgotten is a game that combines RPG and Hack 'n Slash in which we explore the devastated world of Dracorum. We will have several characters available, each with special combat characteristics. HOLMGANG is dominated by action, combat, and customization of combos, which are vital in facing various enemies with guarantees of success.
HOLMGANG has a 3D art style that tries to replicate hand drawings. Music is also an important pillar that gives an epic orchestral touch. A few months ago we had the opportunity to test it in the offices of ZeroUno Games and you can read our impressions. The start is planned for October 29 of this year.
For more information on the game and the study: – Page on Steam – Profile on Twitter website
Lamentum – Obscure stories
Lamentum is a pixel art style survival horror set in 19th century New England. We will control Victor, a young aristocrat who must explore a mansion to find a cure for a strange disease.
Based on the mythical horror sagas Silent Hill and Resident Evil as well as great literary works such as the Lovecraft lyrics, Lamentum assures us a good deal of horror. As a good classic survival horror, Victor has multiple tools to advance in the adventure, as well as various weapons to face the enemies and monsters that are ravaging the Grau Hill mansion.
Lamentum is planned for this year and to warm up your engines you can check out the demo already available on Steam, which is different from the one that will be released at the Steam Game Festival. Also take a look at our first impressions.
The developers have scheduled a chat through their discord for June 19th at 7:00 p.m.
For more information on the game and the study: – Page on Steam – Profile on Twitter website
Magic Twins – Flying Beast Lab
Magic Twins is a cooperative arcade puzzle game in which we control two witches, Abra and Cadabra, who have to exchange their color powers to defeat hordes of colored elementals.
A casual looking game, or as they say kawaii, where coordination and communication with your partner is important. A game with simple controls, but which gradually gets more complicated with a variety of missions and objectives, changes in mechanics, special events, bosses … etc.
For more information on the game and the study: – Page on Steam – Profile on Twitter website
Muttropolis – Pirita Studio
Mutropolis is a science fiction point-and-click graphic adventure that takes us to a forgotten planet Earth. Its start is scheduled for the end of the year, the year 5000, and everyone has forgotten the achievements of mankind except Henry Dijon and his group of archaeologists who decide to travel to planet Earth in search of lost treasure. Together with Henry we must explore the ruins of our own civilization.
In Mutropolis' more than 50 hand-drawn scenes, we find a great cast of strange characters and loads of puzzles.
For the Steam Game Festival, the studio has already scheduled a chat session to talk about the video game: on June 16 at 7:00 p.m. You can set a reminder on Steam.
For more information on the game and the study: – Page on Steam – Profile on Twitter website
Onirike – Devilish Games
Have you ever wondered what happens to dreams that never come true? Onirike is an adventure, puzzle, and 3D platform video game set in a dark and dreamy world. We control Prieto, a being who longs to discover his own nature and that of the world in which he lives.
The open world and the non-linear history proposal together with the peculiar graphic style, which reflects the "dream nature" of the video game very well, make Onirike one of the most attractive proposals we can find at the Game Steam Festival. The launch is slated for late 2020, and the studio has a streaming session scheduled for players to ask questions for June 17th at 4:00 p.m. We were able to test the demo in DeVuego and you can read our impressions. More information about the game and the study: – Steam page – Twitter profile – Website
Ruin Raiders – OverPowered Team
Ruin Raiders is a turn-based tactical roguelike where you take military troops on a one-way journey through the ruins of ancient civilization. It doesn't have a release date yet.
Inspired by games like XCOM, Moonlighter or Darkest Dungeon, Ruin Raiders offer us hours of entertainment. We will be able to craft equipment, upgrade our base, unlock skills and receive 100+ items to face the hordes of enemies and bosses that we will find.
The developers have already scheduled a chat via Steam for June 17th at 5:00 p.m. A good opportunity to learn more about the game.
For more information on the game and the study: – Page on Steam – Profile on Twitter website
Tower Princess – AweKteam
Tower Princess encourages us to join the never-ending list of warriors who must save a princess, although this time conquering her won't be enough. A game that is reminiscent of the classic 3D action platforms, but with a touch of roguelike.
Entering the dungeon, avoiding the monsters and killing the dragon will only be the beginning, there will also be work to …
Blassingame Julia
My name is Julia Blassingame. I'm a 29 years old American citizen, born and lives in the United States, Texas. I'm dedicated to write for the Cameo22 news website, making sure to write all of the news articles in time and meeting the audience necessary quality.
Related posts