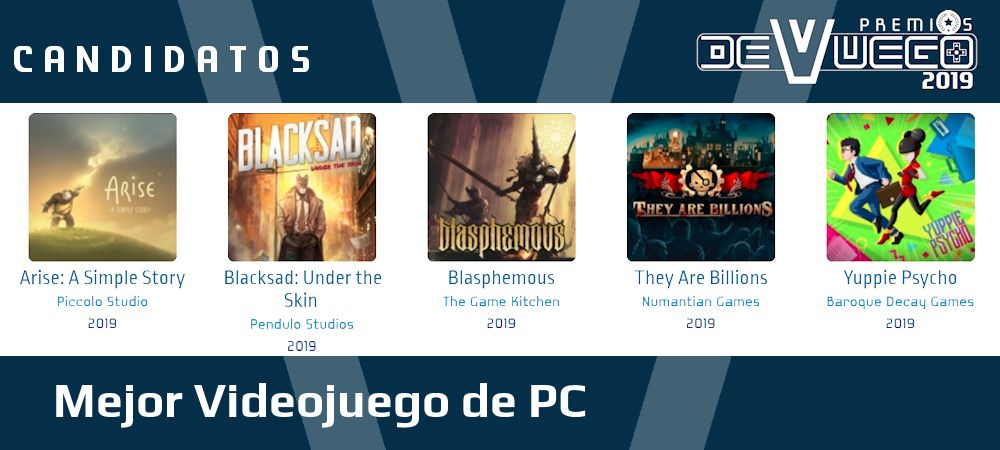 The experts speak to each other: Best PC & Console Game 2019?
Blassingame Julia, 5 months ago
0
8 min

read
120
January is an intense month at DeVuego. Traditionally, it is time to take stock of the past year and vote for the greatest representative of each sector of the Spanish video game at the DeVuego Awards. Not only do games enter the battle, but various industry professionals compete in their respective categories. The Spanish video game industry is healthy and the proof is that the lists are growing every year: there are more games, more developers and the number of people who invest their time in this world in one way or another is increasing. After a few weeks of intensive voting, we already have finalists. The final phase, of which only one will be the winner, has begun.
As the selection is not always easy, we contacted 5 media and journalists to give us their opinion on the finalists in the two main categories: Best PC Game and Best Console Game. In addition, we have provided a little extra space for you to comment on your favorite game, an interesting one or any other that may have gone unnoticed in 2019.
Before we get into the matter, we would like to thank all of the media and editors who generously contributed to the creation of this article:
– Adrián Fitipaldi – director and editor at Isla de Monos – Daniel Jiménez, Pablo López 'Potajito' and Pablo Marín 'Tasturo', editors at NaviGames – Deborah López Rivas, director and editor at TecnoSlave – Juan Emilio Palomino, director and editor at uVeJuegos – Marc Vilajosana, co-creator of Pixel Critic
Best PC video game
Adrián Fitipaldi (Monkey Island):
Blasphemous. 2019 was a golden year for Spanish indie, especially in terms of international projection. Part of it is to blame for what was the best PC game for me: Blasphemous. The Game Kitchen managed to take the best of different genres, surround it with great pixel art, and add a background that is familiar but distant. As a result, they have got their own universe that works really well together. I never thought that Easter could be portrayed in such a gloomy and shocking way. Without a doubt, this title is an experience, both visual and narrative and playable. Not voting this game as the best PC game would be… blasphemous.
Daniel Jiménez (NaviGames):
2019 was a round year for the Spanish video game scene. Jewel after jewel we were able to think about how the national product found its way with titles of incomparable quality. But it is clear that some stand out more than others and we will talk about that. One could, for example, start with the grotesque and twisted fantasy of Blasphemous, with an artistic department of those who leave their mark and their platforms more deadly than their bosses and who have no doubt managed to shine internationally. The crazy terror of yuppie psycho that takes away the desire to look for work at some point in our lives but encourages us to kill witches, with black humor and a great message. Or the bet of bringing Blacksad Comics to life through a game that allows us to embody the best cat detective in fiction and give us a huge detective story. Yes, 2019 was a dream year for Spanish indies, games so full of beauty and talent that you can only wish them the best, that they will go as far as possible. Hopefully this talent will give us this quality or even more in the years to come.
Deborah López (TecnoSlave):
Arise: A Simple Story Universal stories connect us to the essence of humanity and also to the people who surround us in one way or another during our great and enlightening journey. Love, fear, happiness or pain are a good part of the essence of our memories as well as our experiences on the path that inevitably brings us closer to the final transit. In this way you cross the spaces of memory and materialize yourself in a precious artistic direction, the protagonist of Arise: A Simple Story by Piccolo Studios experiences the imprint of a unique epic: his life. The national study chose a simple narrative, but one that is evocative down to the smallest detail. Without dialogue and at a leisurely pace, the title is personally responsible for moving us to an exquisite delicacy. Progressing through the levels is also a significant act as it is necessary to manipulate the flow of time. In this way, stations or protocols are mundane as death gives a different meaning to the dreaded philosophical question. Oddly enough, saying goodbye does not always enchant the gaze with which we observe the world and, as the game seems to tell us, of darkness.
Juan Emilio Palomino (uVeJuegos):
We're not even the shadow of who we were, but the Spanish video game industry is slowly but surely moving forward. And just take a look at the candidates for the best games of 2019 on PC, created in our bull skin, to see that the diversity is evident both in the different aesthetics of each game and in those of the Developers selected genres manifested. Few countries can offer proposals as interesting as a Gothic metroidvania set in the stale folklore of our Holy Week, an adventure that outlines the vicissitudes of life from death itself, the sublimation of paper into textured polygons from one of the best comics we have born within our confines, the turnaround of the resource management genre from the point of view of mass destruction and extreme madness, based on colored pixels of a survival horror set in a large multinational corporation. Now you have your favorite among all candidates and I am sure that you will not be without reason, but of course nobody will screw us up with originality and variety. At least this year.
Marc Vilajosana (pixel critic):
As much as I try to remember, I think there is no play on words whose protagonist conveys his experience better than Blasphemous with his penitent. The latest from The Game Kitchen revolves around the idea of ​​suffering: its maimed and self-injured enemies, the stories behind every femur or phalanx we collect on our journey, and most importantly, its gameplay. If the Sevillian team in The Last Door managed to constantly burst our skin with fear through a bold pixel and an excellent soundtrack, Blasphemous in its entirety is designed to erase the latent frustration in the player with a burning hand.
I ended blasphemy angry. I was bothered by the decisions they made in The Game Kitchen: how tight the platforms were, the slowness of our avatar's animations, and the design of certain areas and bosses. Still holding these thoughts, I think blasphemous is beyond the limit of frustration that can be asked of the player. But it is a brave decision taken to the utmost to give meaning to his work and I think that should be recognized.
Goyo 'Dejota' (DeVuego):
I think we all suspected that Arise: A Simple Story and Blasphemous would be on the shortlist. And to be fair, the first one hits with its simple but emotional narrative that touches you to the depths of your soul and pulls more than a tear from you. The other one, however, visually overwhelms us with its overwhelming, dark and violent graphics. But the rest of the finalists also deserve a little comment. First, Blacksad: Under The Skin, a remarkable graphics adventure that thanks to the tremendous work of Pendulo Studios has managed to recover from the endless problems they had before, during and after the launch. Second, Yuppie Psycho, a game that dares to innovate in a genre as static and unimaginative as horror, which gives us a nightmare on our first day at work. Finally, highlight the presence of They Are Billions, a game that combines strategy and zombies and is incredibly addicting in which you will spend hours and hours without even realizing it. What can I say? The choice is not easy, but it seems clear that with their voice the public seems to appreciate the new and innovative initiatives, be it narrative, graphic or mechanical. If 2020 games of this caliber leave us, it will be a great year.
Best console video game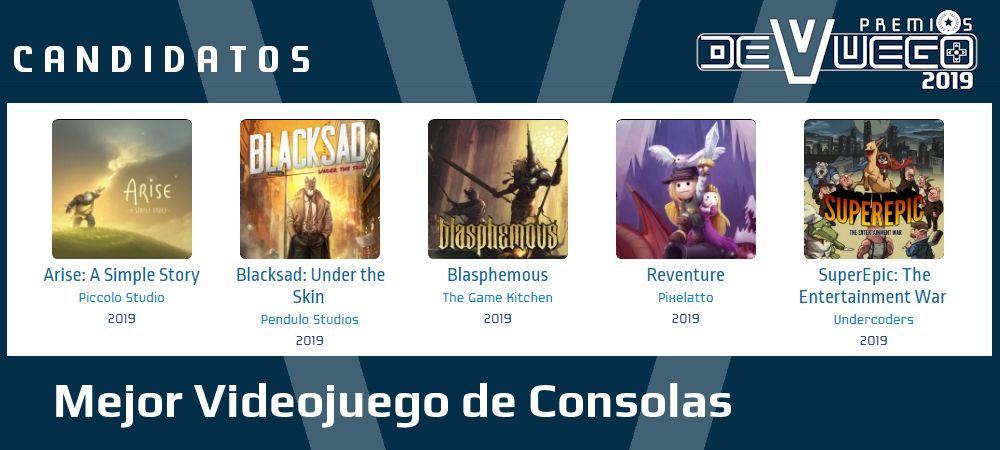 Adrián Fitipaldi (Monkey Island):
SuperEpic: The Entertainment WarIf I love one thing it's Metroidvania … but if I like something more, it's games that take up their story and concept in a lighthearted way. This is where SuperEpic appears and breaks all schemes by giving me as the main character a raccoon on a flame. Your mission End the abusive practices of the video game industry controlled by pigs (if the approach is wonderful). Behind all of this crazy packaging is a very healthy, simple, yet effective Metroidvania that will give you many hours of fun. For me, without a doubt, a perfect game to enjoy on a console like Nintendo Switch.
Pablo López 'Potajito' (navigation games):
Spain and its video games are trendy. Well, no, that would diminish the excellent national games we were able to try in 2019. Very, very good video games are made in Spain. With Blacksad, Pendulum relies on his strongest card, graphic adventure. A mix where the new and the old go hand in hand with an enviable artistic style. The play kitchen and its blasphemy are not just from their …
Blassingame Julia
My name is Julia Blassingame. I'm a 29 years old American citizen, born and lives in the United States, Texas. I'm dedicated to write for the Cameo22 news website, making sure to write all of the news articles in time and meeting the audience necessary quality.
Related posts