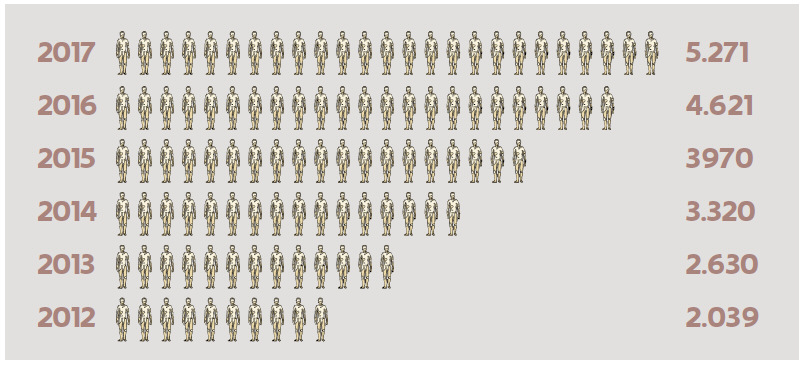 Spain: Video Games++
Blassingame Julia, 2 weeks ago
0
2 min

read
54
Spain, Madrid year 2020. After ignoring the authorities, Blizzard decides to test his power: they launch Project Titan on Monday. The country collapses, the stock market does not come out, funds are reduced to a minimum, and transport is delayed by 50 minutes. There were 6 people in the office today, 2 of whom didn't stop reading about the game.
This situation, although it may seem exaggerated, has been witnessed several times in South Korea.
Although this seems far away to us in Spain, it is true that we are more diverse in these matters, but it is a growing trend. A booming market, a healthy and specialized industry that inspires like no other and that translates into money.
The mobile market is in a bubble, the PC and console market is a success, which attracts the attention of any good investor and in return brings back jobs and mostly good economic performance.
The state of our mixed economy, as the main investor, is responsible for promoting and nurturing the best investments that are most profitable and successful. It's true that many of us lament that…: the government is old and doesn't see the big industry it doesn't nurture! – In order to open my company here, I open it abroad so that I don't get suffocated by bureaucracy and taxes. Etc etc, with some degree of reason.
But as the good developers, creatives, visionaries and entrepreneurs that we are, we like to focus more on the facilities they offer us, although few, they will be helpful.
Events are few, not very widespread and modest, but they are well known, InnGames, RetroMadrid, Gamelab, GamerLand, DreamHack, etc. The more and the bigger, the more motivated our dear entrepreneurs will be and the more synergies will emerge between them.
Training, U-Tad, ESAT, ESNE… There aren't many, because for the needs of the industry, more competition and regularization would benefit us all, and above all, greater dissemination. But the autodidacts carry weight and they are the most vulnerable, but even those who are most enthusiastic, regularizations with free exams for knowledge certificates would help both companies and workers.
Investments, the white paper, more or less accurately, tells us how the industry is doing and the forecasts for the long, medium and short term. They are worth investing in and probably right too, as lately there has been an interest in more government aid rather than corporate interests as this industry is almost in its infancy in Spain.
Now it's only a matter of time before plans to dominate the world of gamification become a reality.
Blassingame Julia
My name is Julia Blassingame. I'm a 29 years old American citizen, born and lives in the United States, Texas. I'm dedicated to write for the Cameo22 news website, making sure to write all of the news articles in time and meeting the audience necessary quality.
Related posts