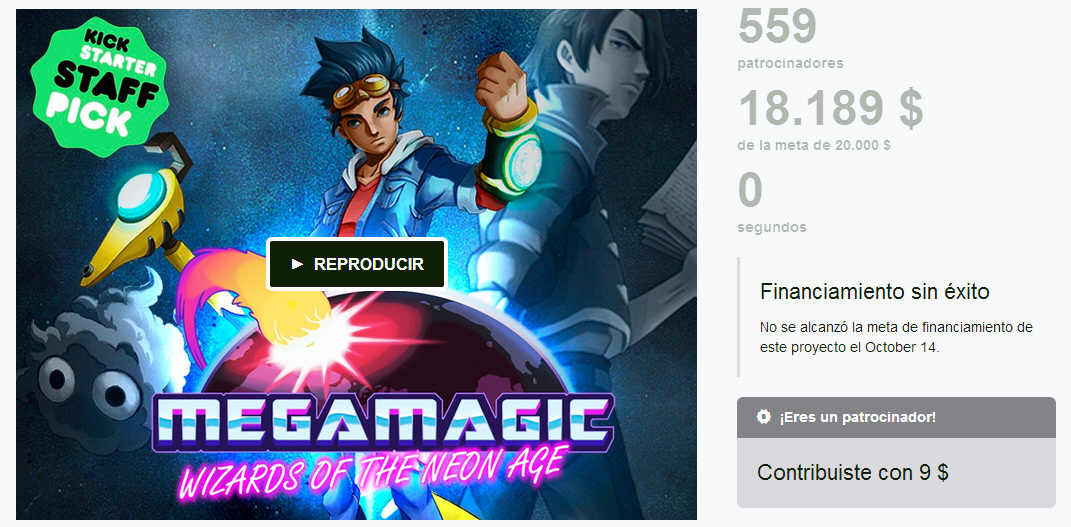 Don't insist, maybe Kickstarter isn't the way to go anymore
Blassingame Julia, 3 months ago
0
3 min

read
185
I look at my backing story on Kickstarter, where I usually contribute (or sponsor as they say) to every Spanish video game project I know of, and I see nothing but canceled campaigns. Then I check DeVuego's email account or social media and see more and more projects that have just started, are planning or planning a Kickstarter campaign.
Exorbitant goals, bad advertising campaigns, unattractive projects or maybe the platform collapsed. It doesn't help much that world-renowned names have used crowdfunding as a means to execute the whims that the big publishers wouldn't allow. Hopefully it served as a wake-up call for the big companies to finally find the missing money (because with their funding campaign they would certainly not even get half of the development) to move forward, but along the way they have perverted the platform and the – perhaps deceptive – notion that crowdfunding is for those who are starting out and have no other option to get sufficient funding to move forward.
It also doesn't help that many saw Kickstarter (or similar, but still the flagship crowdfunding platform) as a way to raise huge sums of money – in its early days – to fund absurd, ill-organized, or downright bogus funding. And I'm not talking about crazy things like the famous potato salad, I'm talking specifically about video games. We've all witnessed the madness of independent video games getting paid for thanks to "Kickstart," and we've all more or less contributed to this fad saturating the platform and causing hundreds of studios — or groups of people — to shut their doors crowded until a stopper was created that eventually blocked the contributions of those of us who had kindly opened that door of patronage – or gift pre-sale, more often than not.
The fact is that at the moment I don't see many opportunities to realize Spanish video game projects through this system. Even those who seem to have started out with more vigor – look at popularity and experience – have been left at the gates of a funding target that's clearly growing more humble among those who start their campaigns with a little more brains than the rest. And yet I still see exorbitant goals when we consider how the situation is at the moment.
So I'm wondering why I see new projects trying to get funded on Kickstarter week in and week out. I don't know if the proponents are unaware of this situation, if they are confident or hope that they will be the exception, or if it is outright ignorance guiding these efforts. I believe the only way to get anything positive from Kickstarter is to stop seeing it as a form of global funding for the project and more as a small economic boost for the project while also being a form of important publicity is – everything The studies that fail highlight positive aspects of the experience, like the great promotion that the mere fact of campaigning means for your game, and a marketing exercise that the vast majority of studios undoubtedly need.
Don't get me wrong, I wish the best for each and every one of the Spanish projects that decide to kickstarter and both personally and from this site we will continue to support them as humbly as possible, but I think a change in approach is needed is if you use this platform – or this funding tool in general – or directly look for other tools to make this idea a reality. Luck.
Blassingame Julia
My name is Julia Blassingame. I'm a 29 years old American citizen, born and lives in the United States, Texas. I'm dedicated to write for the Cameo22 news website, making sure to write all of the news articles in time and meeting the audience necessary quality.
Related posts