Deiland: From error to PS4
Blassingame Julia, 3 months ago
0
8 min

read
112
Post mortem originally published in English in Gamasutra by Diego Freire, Head of Communications at Chibig Studio. Translated into Spanish by the author himself for publication on this blog.
the big mistake
Abraham closed his first company three years ago.
Three years earlier, Abraham opened his first company. He'd been a kid who dreamed of telling stories, but dreams don't carry much weight with reality. He ended up studying an engineering career, creating something practical and material, away from all those ideas, stories and stories. Still, he couldn't stop thinking about it: he put aside his math and physics work to escape into his fantasy worlds.
In his first company, which he founded with other engineering colleagues, he created educational applications. They didn't know anything about the sector, but they knew how to create mobile apps and believed that they could add great value to the overall school environment.
In two and a half years, Abraham and his colleagues created seven apps for math, chemistry, anatomy, geography, biology, and more. And they started growing without much thought. They won awards, received funding from private investors and assembled a team of 20 people. But they also fell for all the mistakes that can be made in the process: they didn't find a suitable place for their product, they didn't measure the scope and size of their projects, and the team was too big.
"It was the worst week of my life," Abraham told me. Nothing could go wrong. They had a great idea, they had a lot of motivation, they had money and they thought that if they worked hard they could achieve anything. But in the end… They closed the company three years ago.
Abraham learned four things at this time:
First, to use Unity and build mobile apps.
Second, to lead a multidisciplinary team.
Third, to start a business.
Fourth and most important, to make projects that could be done with a small team without overestimating their skills or underestimating the project itself.
So Abraham gave himself a second chance and six months to get it: he wanted to start writing stories again, through video games.
new beginnings
"I didn't have money to start a team, so I didn't do it," Abraham said. He started making mobile games as it seemed like the most natural thing in the world. He had worked with Unity long enough to be comfortable with it and had a fairly broad technical understanding. Chibig Studio was then started by a single person back home.
The idea was to make small games in a very short time. Something he could do himself. Miriam Barea, artist and illustrator, Abraham's old friend, joined him and helped with concept art and character design. I needed it because with no money and no people, buying assets was the best option to make games.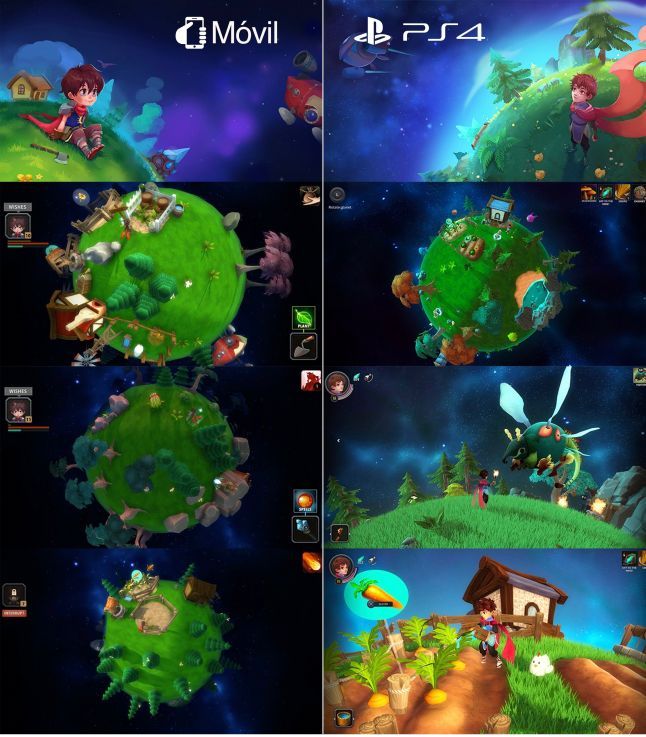 He managed to combine hard work, recognizing his needs and optimizing time and processes to make good games quickly. As he once said to me: "The game better be good and strive for perfection than just be a file on your computer."
So they started a two-month development process. After several tries, they got what they were looking for. Deiland, The Tiny Planet was released in February 2016. After just four months, it reached one million downloads and grossed more than $40,000. How?
It was a buggy game, but they knew it. Instead of doing a long development, they made few mechanics and polished them as needed. After that, the work was not over. They're just getting started.
art was everything. Thanks to an artist on the team, they were able to strive to achieve a very polished and beautiful visual aspect. In virtual stores with so much competition, you sell when you excel in visuals.
Using the book The Little Prince by Antoine de Saint-Exupéry as a starting point, they were able to develop a game that was allowed to grow naturally. You are a child on a small planet and you have to take care of it. The Little Prince was just a concept, a simple scenario but with a lot of potential.
It seems that when you make a successful game like Deiland you only have two choices: you can repeat the same game, bigger and better, or you can make something completely different. But there is a middle ground.
They took Mûn, one of the characters from Deiland, and a new planet, Ankora, and a new genre, but the development and the idea behind the production were the same. This new game, Ankora, focuses more on action than crafting or farm maintenance. It seemed different, but the spirit is different. Players were divided: some liked Deiland more, others liked Ankora more. There was something for everyone.
Ankora came out in October 2016. At the moment, Deiland and Ankora have surpassed three million downloads and managed to keep the studio going for a while.
In this new step in their journey, they also learned a lot: how to produce a game, how to lose the fear to start a game and talk about it and show it to others, and how to admit your mistakes and fix them quickly, Listen to your community.
So they started again.
another fresh start
In case anyone doesn't know him, Sony has a program in Spain called Playstation Talents. With a design document and a prototype, you can apply to this program. And if you are lucky or very good (or vice versa) you will be selected to participate in the program. Once inside, they offer you mentoring, equipment, workspaces, and take you to events and conventions to help with marketing. And in the end, nine months later, you publish your game on the Playstation Store.
The key factor in participating here was the challenge it presented. Could they make a game in nine months? An additional game for PS4. They decided to port Deiland, an already well-known game with great potential for growth and customization, in a version for consoles. But it wasn't that easy. They completely remade Deiland, from the mechanics to the graphics. Paco Mitos and Rafa Giménez also joined, two musicians who brought another new level to the game.
At this point, they understood three important things about developing a console game (or any game, really):
To create a game in ten months, you need at least a month of preparation time. If you cook it in less time, you will need less time to prepare it. If you're going to do it in more, you'll know. It seems that you are not doing anything, but you are doing the most important part of the development. If you plan carefully, you will avoid crunch or omission of content from the game.
For a small evolution you have to adjust your mechanics, your technique and your field of vision. You can't do Skyrim or GTA in ten months. And you can't make a hyper realistic game that's 30 hours long. Because of this, Deiland's cartoon style was an ideal choice, as its versatile style allowed everything to be shown very polished with less effort.
When you're short on time or want to do something super quick, you can revisit old ideas. No problem! Take a mechanic that you have already used. Reuse controls. Copy old graphics.
With a lot of work and a bit of luck (or vice versa), Deiland came out on PS4 in March 2018. And so they started again.
Another fresh start
I think it's time to introduce myself: I'm Diego and I'm the newest addition to the studio. With Deiland's departure on PS4, the studio was poised to grow. Abraham hired three other artists and me. And I don't want to disappoint you, but after your game's release, you'll keep working on… the same game. They are dedicated to looking at metrics, creating patches, managing the community and feedback, and creating new content.
We are still working on Deiland. It was released on Steam on August 9th and we are patching bugs that have been reported to us and found by us. We will also be releasing a free DLC later in the year. But the most important thing I've learned since I've been here and that the rest of the team already knows is:
Show what you have.
For the Steam launch we have teamed up with 101xp, a Russian publisher. They take care of everything related to marketing and communication. But that will be for another autopsy.
Now, bigger and stronger, we face a new development. Considering all the things I've said before:
Measure development well, both in volume and time, and don't overestimate your abilities. You don't want to crunch or work overtime.
Know your limits and your mistakes. Work with them in mind, but don't let them incapacitate you.
Art comes first. For us, a game is primarily a visual and artistic medium. It may be half true for the rest of the people, but we have specialized and focused on the artistic part as a guide for all developments.
Part of known experiences. We know what the people of Deiland hate. what do you love too Now we can create content ourselves and have to rely a lot less on third-party assets, so we prioritize quality over quantity.
We would like to pass on our experiences in these and the coming months. We are now working on a new game in the same universe as Deiland but with a completely new setting, new characters and new mechanics. So stay tuned.
If you've read this far, thank you! There's a lot of words in there.
Blassingame Julia
My name is Julia Blassingame. I'm a 29 years old American citizen, born and lives in the United States, Texas. I'm dedicated to write for the Cameo22 news website, making sure to write all of the news articles in time and meeting the audience necessary quality.
Related posts