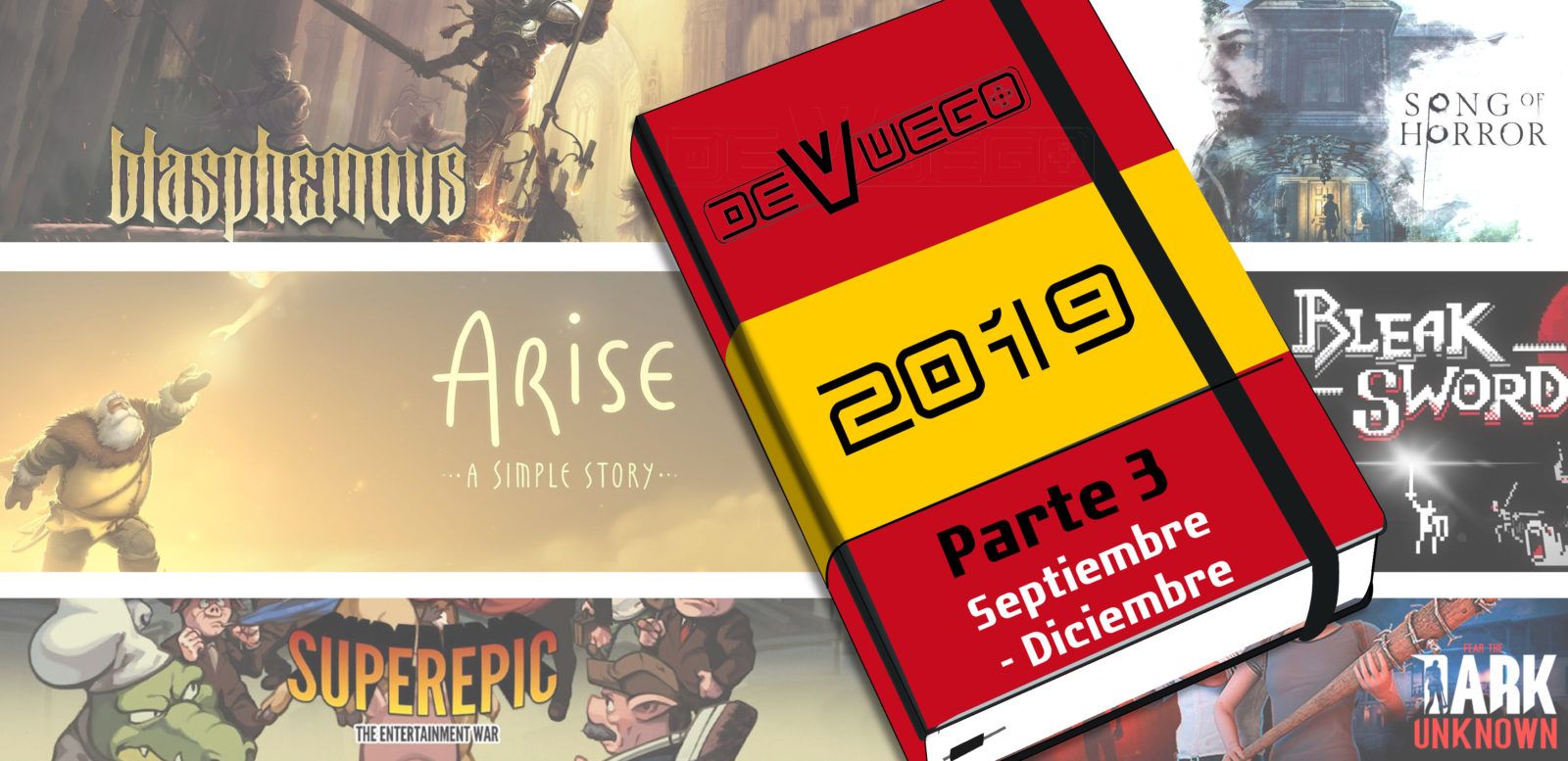 A year 2019 of Spanish video games. part 3
Blassingame Julia, 4 months ago
0
8 min

read
130
It's time to wrap up our in-depth recap of what the national video game has been up to in 2019 (parts one and two here). The last quarter has been intense with high quality media releases that in some cases brought us some tears. It's time to brew the last devueguero coffee of the year, kick back on the sofa and start reading.
It is worth remembering that we only comment on the original 2019 titles. Ports, remakes, EX or Early Access versions (they will be discussed next year when they have all the content) do not appear.
Finally, note that all data, numbers and linked reviews are from our database. We are human – some more than others – and we don't have all the information online, but we encourage you to submit missing information. For this purpose, there is the section "Request registration in the BD" on the web.
September. Start all over
September is the most hated month of the year for many. The sun isn't shining with the same force, the chilly weather is setting in, the pools are covered and it's time to go back to school. At least for the unfortunate people who are not from Albacete. For us that means 10 days of destruction at the fair. If we talk about video games, after the well-deserved break of the previous month, September came with a bang, with interesting, varied and quality products.
We're going to start this review on the right foot, talking about the most awaited and medial game that has generated so many inkflows: Blasphemous. Developed by The Game Kitchen and available on all platforms, this Metroivdania has charmed critics and viewers alike thanks to its decadent and gory pixel art aesthetic based on the Christian religion. Undoubtedly one of those weighty arguments when we defend that the video game is an art. At the moment the game ranks second in the national ranking of the year and its average is 83 with 33 critics registered. We begin the review by salvaging the review written by Carles Martínez of Dragharem in this house: "So brilliant and compelling, so beautiful and shadowy, I have no doubt that the game will continue to be a talking point for times to come about. It accomplishes its tasks with genuine clarity, crystallizing into a truly fantastic journey. It's honestly hard to argue deep down with Blasphemous, even when he doesn't seem to know where he's going. Because in the end, everything that led us to hesitant treatment is eclipsed by good ideas. Most praised for its huge visual range; Navi Games' Ángela Tajuelo gives in to The Game Kitchen's great work on this aspect: "This is one of the best Metroidvania I've played. A complete title that bases its universe on a mythology that we rarely see, with unique aesthetics and designs that you can admire silently for hours (…) An essential game for any player in which we will explore a unique world, in which we'll enjoy the scenarios and try to turn the story little by little." I really liked Albert Manjón's short but succinct conclusion in his review for IGN: "Blasphemous exudes quality through its playable and narrative proposition . A work cared for down to the smallest detail. An excellent Metroidvania." It's true that the game has taken criticism for slightly imprecise controls that get us more than one stupid death (the leader of this rebellion is our Enrique Gil), but it's minor issues that most critics overlook . We conclude with the words of Víctor Rodríguez in Areajugones: "Blasphemous is a Metroidvania that remains a good game in terms of playability but can excel in terms of art and environment. An authentic piece of folk art in video game format, which is one of the most attractive of the independent scene in 2019." One of the most charismatic products of the year. Not trying it because of some inaccuracy in the controls – it didn't cause me too many problems – is a real sin, condemned in Hell.
senserrrrr
The only time I played dodgeball was at school and I can't remember enjoying it all that much. It always seemed like a typical game from American TV shows and movies, but it seems that a legion of dedicated practitioners are behind it. Well, now it has its place in Spanish software too; From the hand of FinalBoss Games comes Super Dodgeball Beats, available for One, PS4, PC and Switch. But don't get confused, although it's a sport, it's a music video game in which we'll have to follow the rhythm to win the games. Strange but delightful mix. In the Xbox community he seemed to like it a lot as Mariette900 gave him an 88: "Although at first glance we might think we're watching a dodgeball game, the truth is that Super Dodgeball Beats is something else. The Spanish studio FinalBoss Games wanted to make a competitive music game and the result is more than satisfactory. Following the rhythm to crush the rival while avoiding the traps they throw at us is a lot of fun if you like these mechanics. As usual, this type of game is penalized for not having an online mode, but GameLegant's editor Lorenzo Bravo rates it positively: "Super Dodgeball Beats is a treasure trove of fantasy, humor, rhythm and action. A very successful artistic proposal with a casual and attractive aesthetic. Its mechanics flow to the beat of its music to draw the player into an addictive world of pure reflexes and focus. Ideal for short games, alone or with friends."
This year, which is about to end, brought us Apple Arcade, a subscription service that gives us the opportunity to play a good number of games. Bleak Sword by Luis Moreno Jiménez is one of the games that we can enjoy if we decide to subscribe to this platform. An arcade action game with a very interesting pixel art graphic part that our colleague Américo commented on DeVCast Ep.1 and in a detailed review: "As a game that is part of the Apple Arcade catalogue, Bleak Sword is a must-see Die most users of this service and especially for everyone who likes swords and software creations. Apart from the quality of the game (which is quite high), it can be interesting to take a look to experience firsthand its control system, so well adapted to mobile phones. The few reviews we found highlight the good job done with the gameplay, bypassing the limitations and making a very addictive game. In Hidden Level, Mario García gives a quality review that I recommend reading: "Playing Bleak Sword consists in chaining the intensity of some fights and some scenarios that follow one another without practically resting and a straight trajectory too form that is satisfied with outlines. in a way succinctly the classic hero's journey (…) And if Bleak Sword achieves anything with its achievements, it is what seemed a priori like the "adaptation" of something larger, in the end appears to us the creation of something new and solid (and the Evidence of this will be the predictable emulation of its combat system in the future). In doing so, it also manages to break down certain mental barriers and make us understand that limitations are not important that they exist (something inevitable), but for whom, how and for what they are used."
https://www.youtube.com/watch?v=4GvZSt4yMIo
Writing these articles made me discover many things. One of them is that very interesting VR games are made in Spain that get little media attention. I think the reasons are obvious: not everyone has the necessary elements to play. One such game is Groundhog Day: Like Father Like Son, developed by Tequila Works and a sequel to the legendary – and wonderful – 1993 film Groundhog Day starring Bill Murray. As in the film, we move to Punxsutawney in an adventure that takes place over time. Since my ailing economy doesn't lend itself to the glasses (throw tickets to Patreon), I'll limit myself to salvaging expert opinions on this VR thing. We start with the review of Luis Miguel Calzada in Deconsolados who seems to have liked it very much: "What Tequila Works has done in making this sequel to a film so loved has a lot of merit as they manage to commemorate it , to pay pay tribute to her and offer another sequel, as worthy We face a simply fantastic narrative adventure for VR that manages to captivate from the first minute, due to the ties to the film, how well the time loop proposal works and what opportunities we have to interact in each scene." In HobbyConsolas they may not be so positive, but Alberto Lloret gives the game an 80: "Groundhog Day: Like Father Like Son (is) a more than interesting proposition, especially if you a fan of the film and the role of "rerun" doesn't bother you (rerun, which, all being said, adds new dialogue to reflect that we're moving towards the loop uss are). Entertaining in playability, if not "groundbreaking", while the remarkable script, which integrates good background messages about family, love or success, does the rest.
I just found out the movie isn't called Groundhog Day it's Trapped in Time
The next game is one of the strangest on the list. The guys from Abylight have developed Mindkeeper: The…
Blassingame Julia
My name is Julia Blassingame. I'm a 29 years old American citizen, born and lives in the United States, Texas. I'm dedicated to write for the Cameo22 news website, making sure to write all of the news articles in time and meeting the audience necessary quality.
Related posts