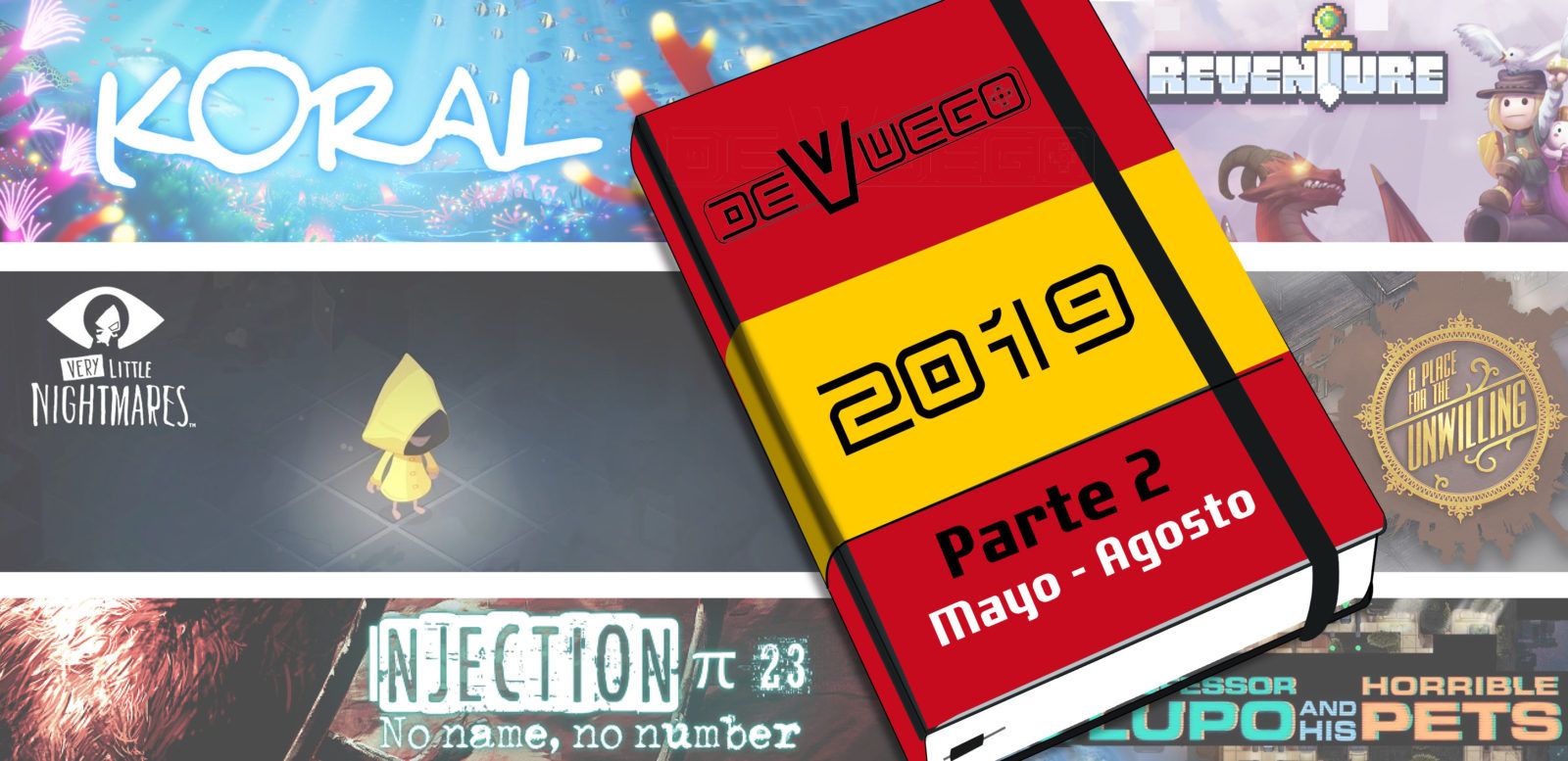 We continue our review of 2019 in terms of Spanish video game production. Last week we covered the first four months of the year in an article that went from less to more. This time we are entering the summer months which have been busy as a preview with many quality releases. Open the calendar again and prepare the coffee (straight, little sugar and very hot) and we continue the journey.
It is worth remembering that we only comment on the original 2019 titles. Ports, remakes, EX or Early Access versions (they will be discussed next year when they have all the content) do not appear.
Finally, note that all data, numbers and linked reviews are from our database. We're human – very handsome, that is – and we don't have all the information on the web, but we encourage you to send anything that might be missing. For this purpose, there is the section "Request registration in the BD" on the web.
Can. The joy of the garden
My grandmother always says: "In May, full rivers herald great thunder". When she recites this saying, I understand that she is referring to the weather and certainly the person who coined it did not do the same with regard to the Spanish video game release schedule either. However, in these weeks in which, a few days before the end of the year, we are reviewing the titles of 2019, it is impossible for me not to recall this couplet.
We begin the second quarter of the year with a rush of titles in the month of May, ushering in what is undoubtedly the season's busiest release. In addition, during these months we witness the release of some of the most thunderous titles of 2019. However, the rainy season ends sooner or later and on this occasion, that moment comes in August when a devastating drought hits the eighth calendar side.
In this case, the first featured release will come in the middle of the month. Koral, the beautiful underwater setting game by Carlos Coronado, was released on May 16th for Nintendo Switch and PC. In this 2D puzzle adventure, you control an ocean current on a mission to bring coral reefs back to life. During its short but intense runtime, the game proclaims a strong message of love for the environment and the sea, which according to our database has been very well received by critics (16 reviews with an average rating of 80). At Mundogamers, for example, Adrián Suárez closed the text giving the game a 90: "The duration of the experience doesn't reach three hours, but it doesn't need more. Koral is a pleasant walk that leaves nothing behind, that is to the point and thought provoking, that is played with a lot of joy and is a pleasure for the eyes and the brain. Carlos Coronado brings us another outstanding video game that excels in restraint and freshness." Koral's naturalist proclamation also reached our website, where his colleague Kenny stated, "It's a game made by him and his team on a boat was developed and tries to recreate the experiences of the author himself, who dived in different parts of the world and this found many beautiful postcards like wastelands devastated by our impact. During the 2 hour running time the title moves between ecological awareness and escape, and only at the end do the two parts combine to make its message strong." Surely the video game industry needs more titles with such a direct and powerful message.
Fun Fact: The game was developed on a ship at sea.
A week later, Super Tennis Blast was released on all current platforms, a title with which the guys at Unfinished Pixel brought tennis video games back to the purest arcade style. The game received good reviews from both national and foreign media, and everyone agreed to highlight the gameplay and the different modes as the most outstanding aspects. Goyo (Dejota) gave it a very positive review in his analysis for DeVuego, but also highlighted a graphic part that was too simple: "Super Tennis Blast is a great option for racquet lovers. It's an accessible game with a high pace of play that will keep you hooked to the controller for a long time. Although its main advantage is multiplayer, its career mode can also make it very interesting to play alone. It has some things that could be improved, like the lack of a volley shot or its poor graphics, but it's a fun experience that will make you take your racket out of the closet and start playing. Likewise, Akihabara Blues' Cristian Viver agreed with our Editor-in-Chief's review, stating, "Despite the fact that it accomplishes its mission, Super Tennis Blast is visually tremendously simple. […] Of course, Super Tennis Blast playable is a joy that will cost you to stop playing. The super easy controls, the ability to create characters and improve their stats, and various game modes prove that Unfinished Pixel has taken good note of the feedback from Super Volley Blast fans."
On May 28th Dystopicon was released, a game developed by OveR Software in which we take on the role of a citizen of a dystopian and totalitarian society where people get money for watching TV. With the capital we earn by sitting in front of the box, we will invest in services that allow us to meet our basic needs (basically hunger, hygiene, entertainment and comfort), so we could call the game a resource Manager with touches of simulation and survival. Through these mechanics, and by adding an extra element from time to time, the creators make a great critique of capitalism: deep, traveling, and largely transmitted through gameplay. In my analysis for this, our website, I ended with the following words: "I have to admit that I loved the game and I think if it seems so solid and well made it's because it's a simple game is, that mostly focuses on the game message you want to convey and where all the mechanics revolve around that. It's possible that due to the somewhat static gameplay and the a priori more leisurely format, it won't attract the attention of players of genres with more action, but I assure you that it can get more tense than any fight or shootout. And the truth is that after playing again for this article I can only confirm what I said. It is possible that not being on Steam has gone unnoticed, but considering how interesting his proposal is and being able to download it for free on the studio's website (or pay whatever you find convenient), I think nobody should miss it.
I haven't seen a teaser with such well placed music since the first trailer for Sonic the Movie.
We come to the end of the month with what I consider to be one of the best games of the year. On May 30th, Alike Studio released Very Little Nightmares for iOS devices. A prequel to Little Nightmares (the acclaimed 2017 title developed by Tarsier Studio), the game once again puts us in control of a little girl in a yellow raincoat who, in this case, has to find a way out of some sort to escape mansion called The Nest. We are faced with an adventure and platformer title set in a universe that constantly oscillates between the delightful and the spooky. Through the many rooms of The Nest we have to solve puzzles that will allow us to advance, always bearing in mind the extreme fragility of our little protagonist, which is emphasized compared to the enemies that inhabit the mansion.
The opinions on Very Little Nightmares that our database collects are quite mixed. On the one hand we have the verdict of three foreign media (Multiplayer.it and EveryEye.it from Italy and 148 apps from Great Britain) that give the game a negative rating with marks between 40 and 58. They highlight the setting as positive points and the artistic style, but heavily criticize what they consider to be bad gameplay. On the other side of the scale, however, is my review for DeVuego, where I end on a much more positive note by emphasizing, "It's been an absolute pleasure to be able to return to Little Nightmares with this title, the formula really worked well Translated from the original to the mobile format. With a great visual and sound section, a remarkably high level design, and an excellent setting, Very Little Nightmares is an unmissable recommendation for those who enjoyed the original (and own an iPhone, of course). In any case, its effect does not seem to have been sufficient to draw any important conclusions from the opinion of the press. At this point, the best I can recommend is that you try it and draw your own conclusions if it catches your attention.
The atmosphere that this game achieves through its sound section is insane.
We can't end this May video game preview without also mentioning these titles: Hexa Gravity, developed by Flynn's Arcade for Nintendo Switch; Delta Squad, an Eskema Games product that came to PC in May (and later to the rest of the current consoles); LaLiga Top Cards, a game by The Breach Studios for Android and iOS, and Trog Smash Island, the cute platformer that Baviux has released for mobile phones.
Finally, we dedicate once again the last lines of each…
Blassingame Julia
My name is Julia Blassingame. I'm a 29 years old American citizen, born and lives in the United States, Texas. I'm dedicated to write for the Cameo22 news website, making sure to write all of the news articles in time and meeting the audience necessary quality.
Related posts